Record Mirror interview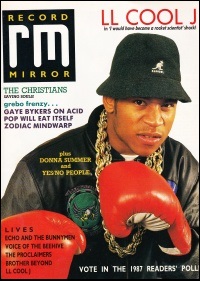 Into A Circle have a singer called Bee and a will to succeed in the wacky world of pop. Circular arguments: Lysette Cohen
Into A Circle have a singer called Bee and a will to succeed in the wacky world of pop. Circular arguments: Lysette Cohen "Most bands say they want to do their own artwork, and the record company says 'yeah of course you can, we love all that at this company because we're different!" I don't know how many times we've heard that says Barry Jepson, guitarist and one half of Into A Circle. "And when it doesn't happen, the band don't want to get bolshy in case they jeopardise the deal."

That's just one of the many failings of the music business. But having been in this situation with their previous band Getting The Fear, and being far from content, Into A Circle have now got it dead right. By being allowed to design their own artwork for merchandise/record sleeves et cetera, the band are able to enhance their music with visuals. The idea carries over to their live performances where slides are used to the same effect—not conceptually or blatantly, but purely atmospherically.

"We made it quite clear to Abstract records that it wasn't just the music we were selling to them, it was the whole packaging," says singer Bee. "We managed to achieve that aim by anticipating the needs of the company. It's not like we wanted to do anything off the wall, we just wanted control."

Into A Circle have released their second single for Abstract. Entitled Forever, it is a delicately crafted affair, with Bee's strong but waif–like vocals carrying the almost into lullaby–land. He is helped out vocally by Rose McDowall from Strawberry Switchblade, who more often than not, also helps the boys out on stage.

Bee: "We met her a couple of years ago at a club and it just so happened that we only lived 10 minutes away from each other. We stayed in touch and she has helped us out with our new material."

It was Rose who introduced the band to Larry Steinbachek from Bronski Beat, who produced Forever.

"It was great working with him," comments Barry. "Larry is one of the few people in the music industry who is truly talented."

"In a way we are very selfish," says Bee. "We don't like giving in to people. We've had to do that so many times and we've always been pissed off with the end result."

Barry: "There is a music business equivalent of yuppies. I couldn't begin to describe them, but most of them are record producers."

Trying to place Into A Circle into any sort of 'movement' is nigh–on impossible. And whereas most bands would love to find themselves in this position, this band find it is something of a problem.

Barrry: "The indie scene is swamped with a thousand bands all sounding the same. And people looking in from the outside see us being the same as them. And we're most definitely not."

How would you describe yourselves then?

Barry: "We can't, though God knows we've tried! We start by going 'well we're not this and we're not that', trying to describe ourselves by using a load of negatives. Then I try and think of who we might sound like and can't think of anything. Then I think of bands we like, but we don't sound like them either…"

And that's certainly not a bad thing.