Into A Circle (In Two A Circle, In2aO) were formed in April 1985 by Bee (Paul Hampshire) and Barry (Jepson), two former members of Getting the Fear. It was in intention a creative unit, without the restrictions of a 'band' format, using music, imagery, poetry and prose to further ideas begun in GTF, taking inspirations from the religious principle, sexual intuition and spiritual insight. Lyrically and in attitude, they were deeply influenced by poet, artist, writer and philosopher Brion Gysin and his frequent collaborator William S. Burroughs. Particularly in respect to their use of North African folklore (the stories, for instance, of 11th Century Ismaili warrior, Hassan-i-Sabah) and magicial rituals (such as that of the goat-boy-god, Boujeloud.).
After writing and rehearsing for some months the band played their first live date at the Croydon Underground in December '85, just prior to the release of their first single "Rise". Following their policy of total control; Bee and Barry did the production, artwork and layouts. Thus achieving a concentration of their purpose and vision previously impossible This was to be the most important aspect of all Into A Circle recordings, merchandise and visual representation – strict attention to detail and total control. "Rise" quickly sold out (it was a limited pressing of 5,000 copies) and a short tour of England and Scotland followed in March '86. The band was joined on three dates [and subsequent ones] by Rose McDowall, from Strawberry Switchblade. In July '86 a deal was signed with Abstract Records followed by the release of their next single "Inside Out". This was an indie success and live dates over the Christmas period followed. However this highlighted Bee and Barry's dissatisfaction with working with session musicians and the band spent some time rehearsing and producing a new live format. Using ambient, taped, sampled and pre-recorded sounds as well as 'live' instruments to give a new edge and definition to their live work, they attempted to recreate the atmosphere under which they wrote and recorded their material.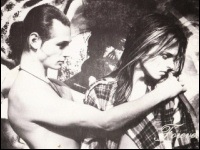 The third single "Forever" was a reflection of the bands new direction and featured Rose on backing vocals. It was co-produced by Larry Steinbeck from Bronski Beat and was a taster for their debut album "Assassins" which was eventually released in the summer of 1988. The album was promoted by a constant touring schedule. A second single from the album "Evergreen" was released in the autumn, which like all previous releases entered the UK Indie Top 20, staying there for a number of weeks. Bee and Barry carried on working together for a number of years following these releases, but unfortunately none of the material produced ever saw the public. A rumoured support slot with Erasure on their "Innocents" tour was quashed when record company executives refused to financially back them. In September 1989 Into A Circle took to the road one last time, supported by "Sins of the Flesh". New York Punk Poetess; Annie Anxiety (Bandez) joined the line up on backing vocals and the band unveiled a new harder edged sound. Adding to new material were complete reworkings of earlier Getting the Fear songs; "Sometimes" and "Yurune". There were rumours of a name change to "Big World Café" or "Ugly", but the band finally combusted on stage at the Fulham Greyhound in October 1989. Bee now resides in Thailand, where he is a member of electro-rock band FUTON alongside Simon Gilbert from Suede. Barry lives in the UK, where he is a tour manager for bands.